Native Plant Garden Sign; Made in USA Protect Pollinators, Conservation, Garden decor, Durable Aluminum, 7.9" x 11.8", Educational signage
Native Plant Garden Sign; Made in USA Protect Pollinators, Conservation, Garden decor, Durable Aluminum, 7.9" x 11.8", Educational signage
Regular price
Sale price
$29.99 USD
Unit price
per
Sale
Sold out
Conservation begins at home. A yard safe for bees, butterflies, & birds helps the Earth so spread the word with your garden sign. A healthy ecology brings in a diverse array of happy insects who may live their entire lives inside the safe haven of your yard. Planting native plants helps the butterflies and hummingbirds get the nutrition they evolved to need. In the image you'll find a bee, butterfly, and Monarch butterfly chrysalis.

I've held these signs in my own hands. They're strong and unbending. I purposely left space in the center edges just in case you decide to drill two holes there for a one stake mounting option. This sale is for the sign only.
Signs are already printed by a U.S. company and shipped directly from my studio.

The flowers are all quite real and identifiable. Clockwise starting at the far left, the red and yellow flower is blanket flower/gallardia, then black-eyed Susan/rudbeckia, right above those there's one stem of yellow coneflower/ratibita pinnata. You have the purple aster/Symphyotrichum, and then the star of the show, purple coneflower/echinacea. The yellow underneath is Missouri primrose/oenothera, then prairie smoke /geum triflora. Curving over the geum is a frond of Virginia bluebells/mertensia virginica. Down in the corner is a wild rose/rosa acicularis. Then there's a form of milkweed, I'm not sure which one, which of course is the host plant of the Monarch chrysalis that is attached to it, and lastly some common tickseed/coreopsis. Ta-da! It's a good habit to learn both the Latin and common names together because you often will encounter one and not the other.

[Made in USA] Custom Durable Classic Aluminum Signs 7.9" x 11.8"
· [Material]: Aluminum
· [Size]: 20cm x 30cm (7.9" x 11.8")
· [Print Technology]: UV print
· [Print Position]: Single-sided printing
· [Type]: Hangable metal plate with 4 pre-drilled holes on the corners
· [Occasion]: It's a perfect accessory to any wall. It's an ideal hanging picture for coffee shops, gardens, parties, homes, offices, and more. Lettering prints can show your fashion thoughts in a particularly meaningful way. The perfect gift for friends and family.
· [Note]: Product is from the US warehouse



About this Item
· High-definition and durable
A wall decoration, a hanging painting, or just a simple warning sign to people around, high-definition picture, reflective, waterproof, dustproof, sunscreen, flame retardant, it can be used all year round and can be punched through for your design.
· Expression of your sense of art
The sign is customizable, which allows your imagination to run freely on this simple decorative sign. Have fun customizing your unique sign.
· High-quality printing
UV print is capable to fit various materials, the printings of this technology are glossy and scratch-resistant, friction-resistant.
· Lightweight material
Made from lightweight aluminum, these economical prints are vibrant, durable, and easy to transport. It's super lightweight but resilient, these prints are perfect for easy hanging.

Shipping & Returns

Orders are made then shipped within 3-7 days via a 3rd party production partner. Then add around 3-7 days for shipping. No returns on custom print-on-demand items, but all items have been carefully researched and are well-loved!
Care Instructions

Pretty durable! Can be used in the garden. Paint is UV resistant.
Share
View full details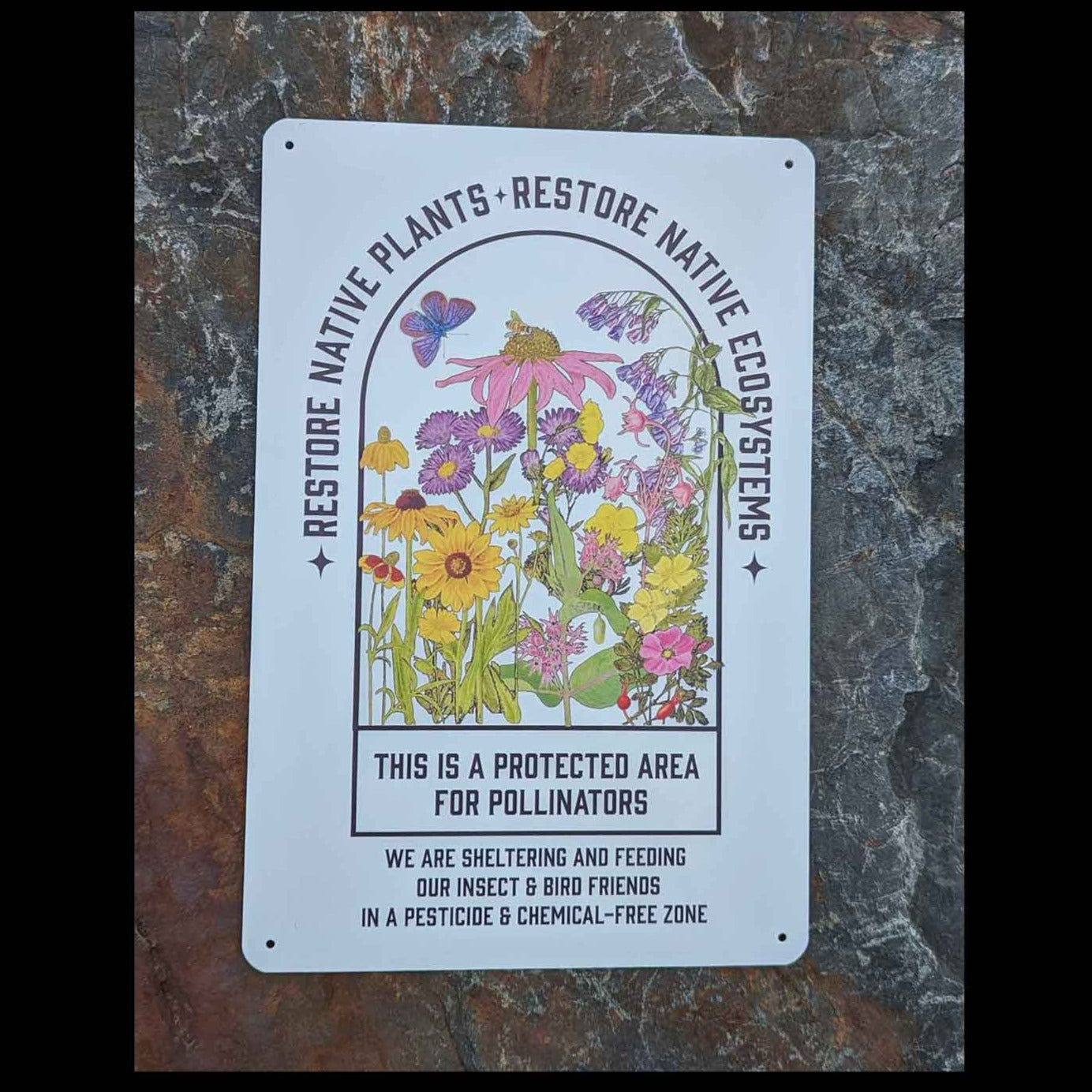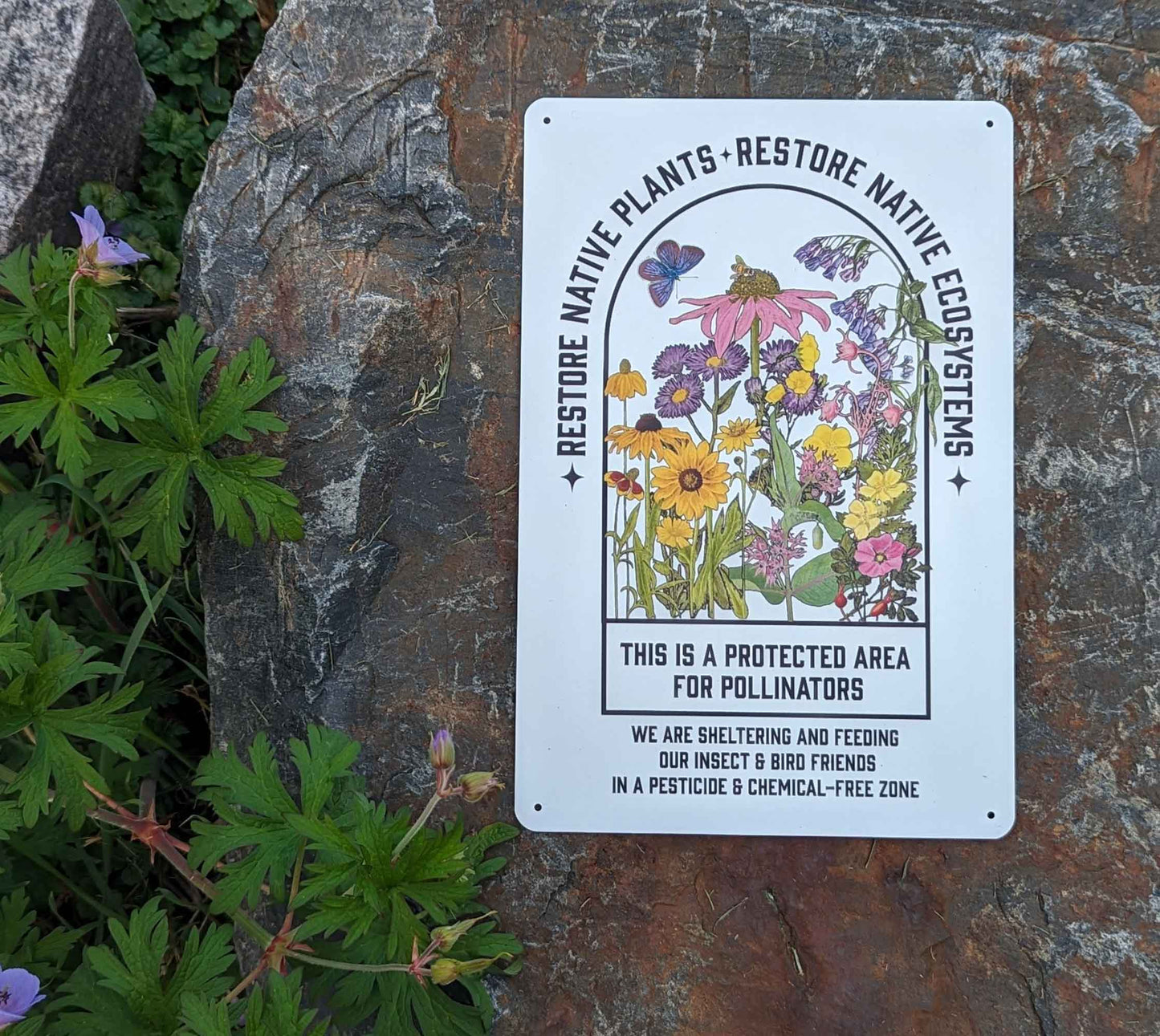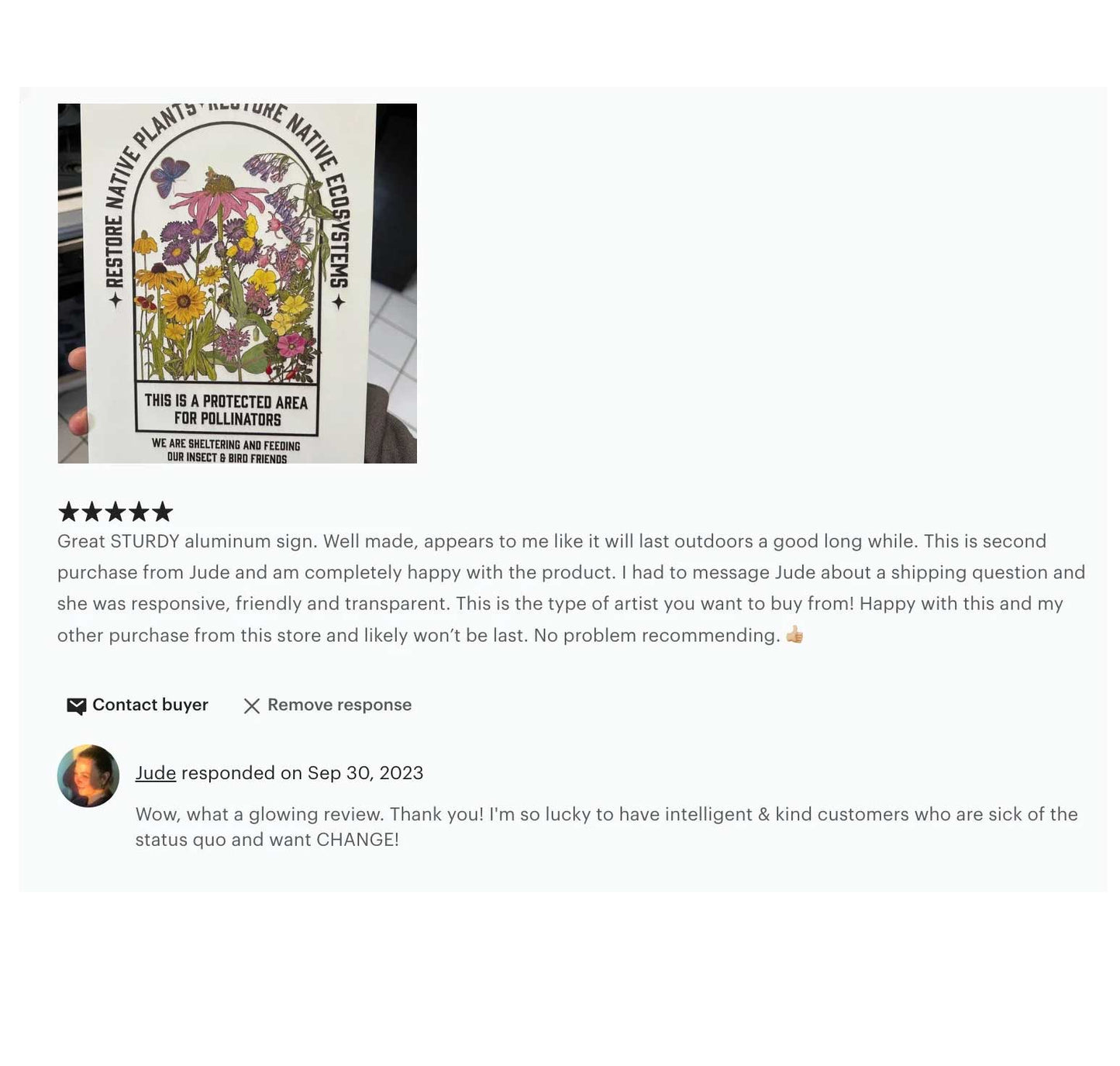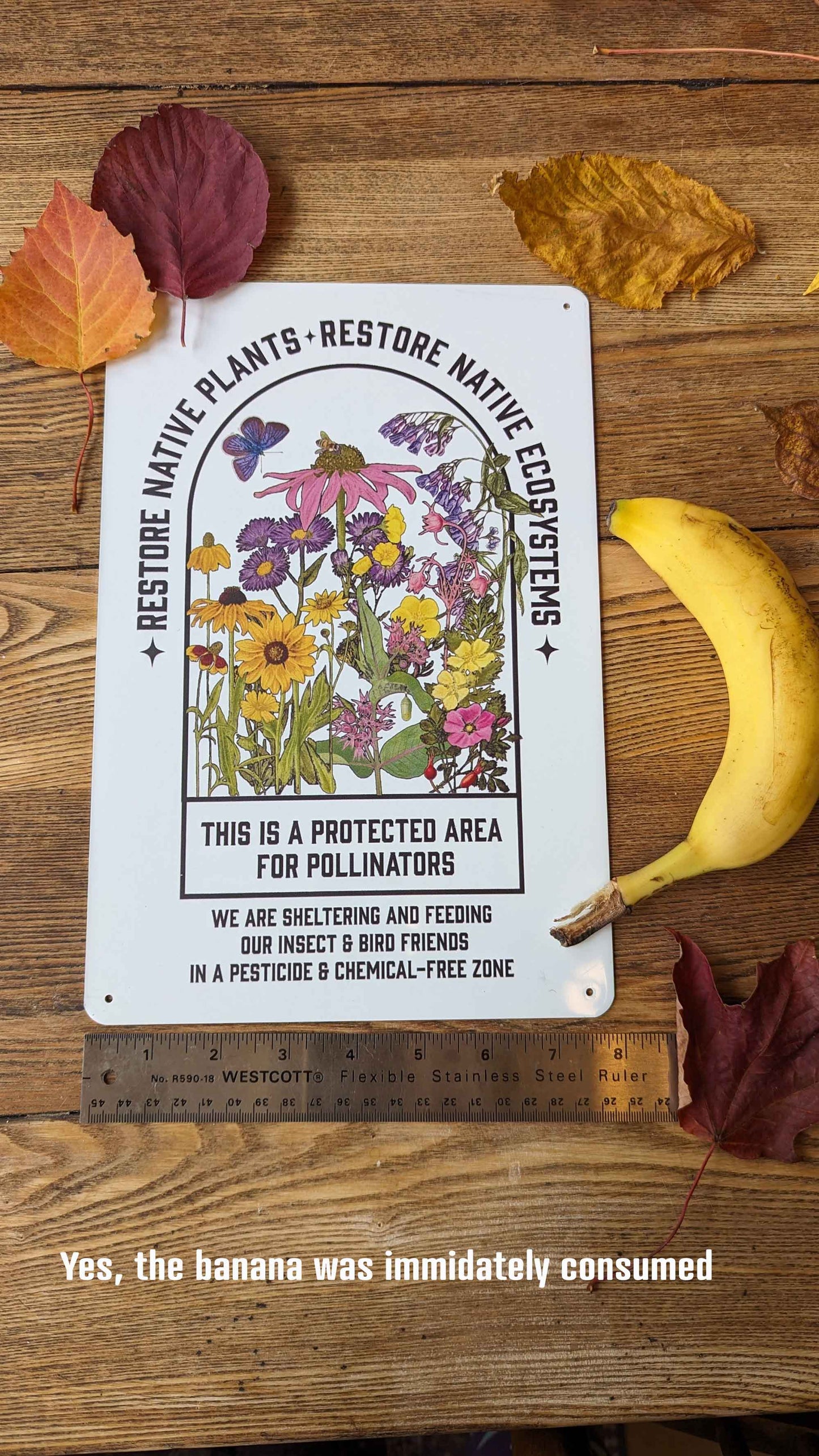 Testimonials
"I bought this for my wife for our 22nd anniversary. She raises monarchs so I knew that she'd love it. When it arrived it was beyond expectations. Absolutely beautiful. She loves it. You should have seen her face. 😀".
"I grew up in New England and as a kid we had monarchs in our house the end of every summer. We would collect the caterpillars from a nearby field when they were small, feed them milkweed every day, watch them make a chrysalis and then wait. Eventually they would get dark, and if we were lucky enough we were there when they came free. We would go out side and they would walk on our hands and arms as the wings dried, then eventually fly away. For years I thought jade was the perfect chrysalis color and had wondered if anyone had thought to make a pendent out of jade with gold beading."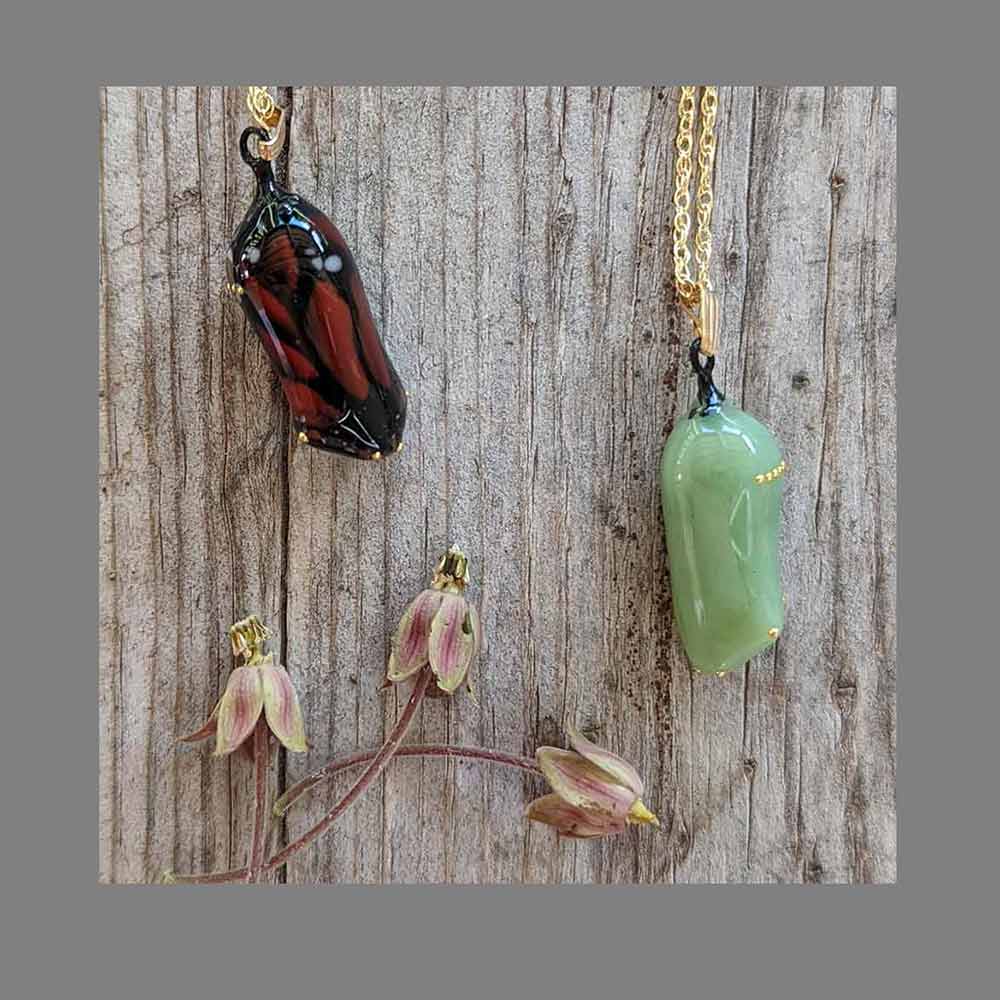 "Wow. Not only is the pendant more stunning in real life, Jude is the loveliest and kindest person too. Her level of care and heart with both her craft and the customer service is top-notch. The pendant also arrived quickly. Truly blown away, thank you so much!"