Testimonials
Here's what buyers are saying:

"Wow. Not only is the pendant more stunning in real life, Jude is the loveliest and kindest person too. Her level of care and heart with both her craft and the customer service is top-notch. The pendant also arrived quickly. Truly blown away, thank you so much!"

"This piece of jewelry is a masterpiece. It was love at first sight!"

"AMAZING! I love this chrysalis pendant so much that I gave it to my daughter and bought another one for myself. Beautiful."
"This jade colored glass Monarch Butterfly Chrysalis looks so like the one we had just a few weeks ago before it emerged and we released them. This is a lovely touch point to work with… especially when looking at a real chrysalis which you want to but should not touch ;-) I like that this is made from glass so it is a a more durable pendant if treated with care."
"Everything I wanted. Beautiful! You're so talented! Arrived in perfect condition and well packaged. Looks realistic. Highly recommend."
"This masterpiece of art is spectacular. I was beyond thrilled with the quality and the artistry of it and could not stop holding it, examining it and just plain old marveling at it! Jude Rose's work is exquisite in detail and resemblance to a real-life, freshly born chrysalis. I had high expectations and it surpassed them all. I absolutely adore monarchs— owning and wearing this piece is a perfect way to celebrate that obsession!"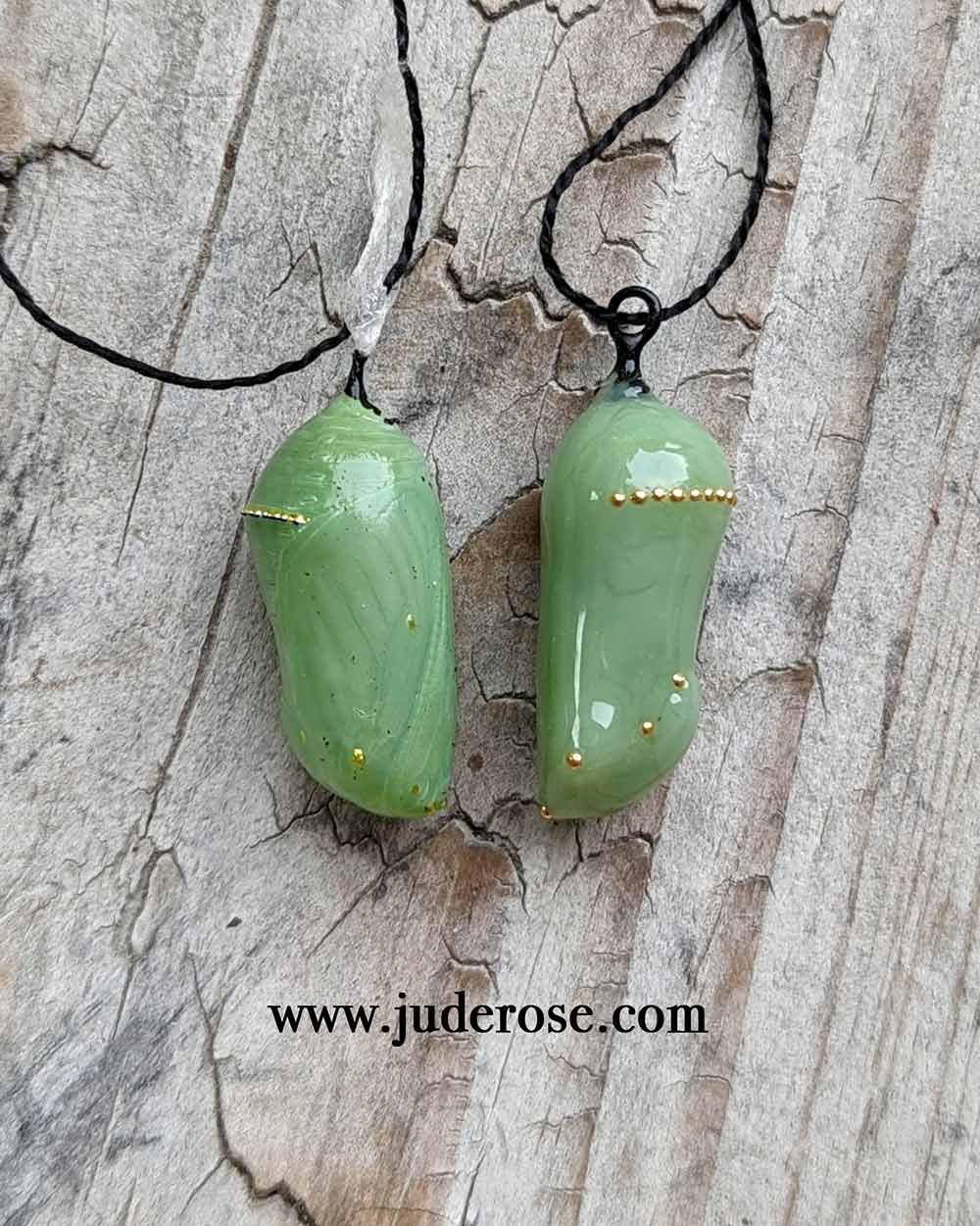 Deeper meaning
"I truly had no idea, before getting these, how accurate lampwork could be--Jude Rose is a true artist and, if you're on the cusp of major life changes and want an eye-catching, symbolic representation of that...or if you just need a healthy dose of beauty...I can't recommend her work highly enough. Thank you, thank you, thank you!"
Collapsible content
Beyond expectations

"I bought this for my wife for our 22nd anniversary. She raises monarchs so I knew that she'd love it. When it arrived it was beyond expectations. Absolutely beautiful. She loves it. You should have seen her face. 😀"
Always wanted another

"Beautiful! I purchased the "almost born" version of the chrysalis several years ago and have wanted the green chrysalis ever since. The colour and details are spot on. Really well-crafted piece."
Meaningful on multiple levels

"Very pleased with my purchase!! Great customer service & communication. Arrived ahead of schedule. Seller went above & beyond. This is a true piece of art & done impeccably. The chrysalis has special meaning to me on more than one level. First of all my hubby & I raised monarchs from eggs, rescuing them from a city lot of weeds & milkweed soon to be mowed down. Then there is the whole transformation from the tiny egg to a beautiful butterfly. It is truly a miracle unfolding before our eyes."
Perfect birthday surprise

"Hi Jude, I meant to write to you the other day to let you know that the chrysalis came and it's perfectly beautiful! I know ***** will love it, and I am happy I get to gaze at it until November! Thanks so much for doing such a wonderful job creating this special birthday surprise!"
She thought I hurt a butterfly!

"Was a gift for someone who has hatched her own chrysalis and was pleased with how real it appears. I had to convince her it was blown glass, at first she thought someone had harmed a butterfly."
Childhood memories

"I grew up in New England and as a kid we had monarchs in our house the end of every summer. We would collect the caterpillars from a nearby field when they were small, feed them milkweed every day, watch them make a chrysalis and then wait. Eventually they would get dark, and if we were lucky enough we were there when they came free. We would go out side and they would walk on our hands and arms as the wings dried, then eventually fly away. For years I thought jade was the perfect chrysalis color and had wondered if anyone had thought to make a pendent out of jade with gold beading."
More testimonials available

These are just a small sample from over the years. More can be found on my old website here